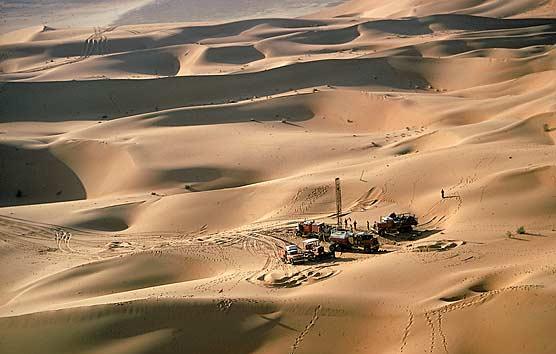 Strip to your ginch before donning your PPE. You'll find sweat rolls quite freely without constricting shorts or t-shirts in the way.
Chug 1 litre of water before exiting the air-conditioned vehicle. You'll begin to sweat rapidly as soon as you exit into the desert sun so make sure you're well hydrated!
Find the most direct route to the air-conditioned operator building or control room and take it at a steady but firm pace! Try NOT to make it look like the searing heat is unbearable and maintain a pleasant look while smiling at local contractors along the way.
Chug 1 more litre of water. (Repeat every 15 – 30 minutes as this is the amount of sweat you'll be losing in the same time frame).
Soak a bandana and place it over your head so it drapes down over the back of your neck. You may use cool water or hot water. Cool water will give you a comforting feeling for 5 to 10 seconds when you step outside again before the cooling sensation becomes a distant memory.
Congratulations!! You should now be on-site, semi-conscious, and ready to tackle the task ahead.
Chug 1 more litre of water.
Begin injecting diesel and Odyssey Solvent into valve bodies. *Leave overnight to allow for the soaking and decomposition of contaminants.
Alternate tasks between open and shaded areas. This will give you a slight reprieve from the blaring sun for a few minutes at a time allowing your waves of nausea to abate.
Chug one more litre of water. (You may have noticed you have not urinated yet, this is perfectly normal as your body struggles to retain every drop of water you take in).
Call it a day! Jump into the air-conditioned vehicle and head back to the hotel. Stop at the pharmacy on the way home and buy baby powder with sandalwood… apply liberally!
Return to worksite the next morning and repeat steps 1 through 7.
Drain valve bodies and store used diesel and Odyssey mixture in a safe place.
Inject high pressure nitrogen into the valve bodies. (This is only effective if the seat rings are self-relieving, allowing the seats to push away from the ball plug face).
Chug another litre of water.
Rotate valve. You should hear a creaking inside the valve body as the ball plug breaks free of the seat rings.
High five fellow crew members. They have put as much blood and sweat into this project as you have, do not forget to recognize them for their achievements.
Bow to your applauding fans. Most likely, other contractors and pipeline operators are anxiously watching you in this critical moment. Don't feel shy about taking a victory lap around the site to high five all those around you.
Drain valve body to confirm a tight seal. If you lie under the valve with a large pipe wrench resting on your stomach and have tinted safety glasses on, this is a good time to pass out from exhaustion as you will be in a shaded area with a slight breeze nearby. *Holding the pipe wrench will give the impression that you're on "standby" and simply waiting for the pressure to drop.
Move to the next valve and repeat steps 13 – 19.