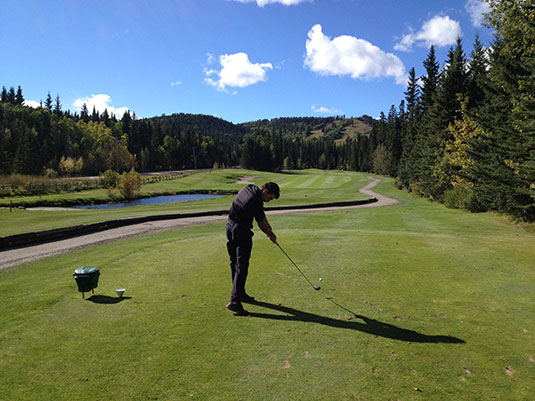 The big stick was working well for Ernie Coates on Monday at Wintergreen Golf & Country Club but wasn't enough to secure tournament dominance. The top team took the tournament trophy with a triumphant -15 (pardon the alliteration). The Ernie/Jay squad didn't get much help from yours truly as I couldn't manage to control a driver that's been well above average up until now. In fact, each member needs to notch 3 drives each – my last one came on the last hole (a 110 yard par 3) and even then I needed to cash in a mulligan to make the green in regulation.
Glenn Macadam and Steve Swaggar faired much worse when they got paired up with a couple of "newbs" who held the team to an almost even par (+1) through the round. Newbs or not, one of the sub-par partners pulled off an impossible long putt on #18… a 35-foot downhill rollercoaster that would've made Tiger shake in his cleats.
All in all, fun was had by all. The tournament organizers, The Young Pipeliners Association of Canada, put on a great networking event. The proceeds go to support an organization called Indspire that helps promising First Nations kids get into advanced educational programs that ensure a solid career path. You can get more information on the programs they have at https://indspire.ca/. The staff and administrators at Wintergreen G&CC were all amazing, the course was in amazing shape and the food was dynamite! I highly recommend this course but remember to hit the practice greens and driving range ahead of time!