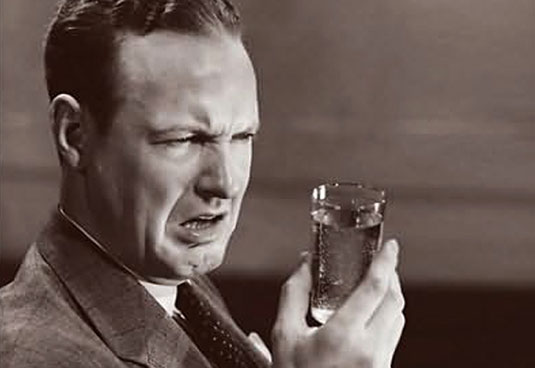 Guests of the Quebec Oil and Gas Association luncheon probably didn't expect to be served fracking fluid from a champagne bottle last week.  Halliburton Canada VP, John Gorman, offered the fresh beverage to the audience following a power-point that showcased a new and cleaner fluid – CleanStim.  Dozens of executives took part in the stunt and were surprised by how stale and boring the concoction really was.  QOGA president, Michael Binnion described it as "very stale-tasting."
This was a very important PR moment for Halliburton as criticism of shale gas exploration and extraction is a hot topic at many breakfast tables nationwide.  Critics accuse government regulators of allowing poisonous chemicals to enter water tables during the extraction process.  This move puts Halliburton at the front of the pack in well servicing, innovatively speaking.  "We were trying to show that whenever the oil and gas industry is shown a challenge, we view it as an opportunity to find solutions. And in this case, we only had to replace very few chemicals with some food additives." Gorman told the Financial Post.
Despite reports of well water supplies being contaminated by fracking fluid and natural gas, the vast majority of these wells are in remote areas where environmental contamination can be contained and mitigated in short order.  Eliminating potential contaminants from the environment is in the forethought of most oil and gas producers and should remain so.  Reclamation projects rarely get the same amount of press as exploration projects do.