Lubricants, Sealants and Cleaners
Eterna-Lube #1000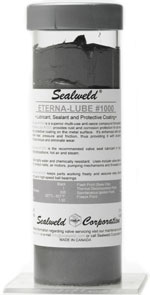 Sealweld Eterna-Lube #1000 is a superior multi-use, anti-seize compound formulated to provide rust and corrosion protection for all metal surfaces by forming a protective coating. Enhanced with additives that create an impenetrable barrier that will withstand extreme heat, pressure and friction, reduce torque requirements and eliminate wear. Eterna-Lube #1000 is waterproof, non-melting, highly resistant to chemicals and gases (except oxygen) and will not harden.

Sealweld Eterna-Lube #1000 is the recommended valve seat lubricant in high-temperature services including hydrocarbons, hot air and steam.

Recommended for use in: valve stems, gear boxes, expansion joints, conveyor belts, air motors, pumping mechanisms, all threaded connections, hand and motor-operated valves, gaskets, flanges, O-rings, bushings, bearings, rollers, gears, transmission boxes, chains, drives, automotive chassis, wheel bearings, universal joints, electric motors, compressors, hoists, turbines, winches, furnaces, burner assemblies, regulators, pumps, control chests, headers, cylinder head assemblies, gasket manifold assemblies, stud assemblies, fuel injectors, pre-combustion chambers, valve cages, turbo charger fittings, guides, fine thread tubing, compressor cages, silencer piping, shaft coupling bolts, keyways, spark plugs, torque rod pins and lubes, air cylinder assemblies, pneumatic cylinder shafts, liquid fuel pumps, air slides and axle shafts.

NOT recommended for use in high-speed bearings.
- 40°C to + 1093°C
- 40°F to + 2000°F